Algo generated xfactor analysis on the hottest startups and ventures. Transparent information such as cap tables, ownership and valuations without the social media noise.

UK's biggest database of researched and xfactor'd hot stocks.
RESEARCH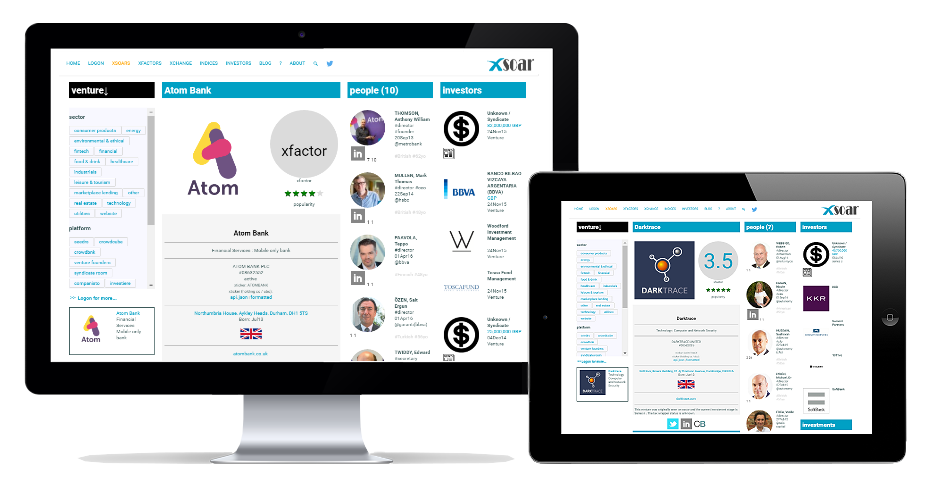 Transparent Efficiency
Buying equity, notes, bonds in a UK crowd funded venture is the easy part. Xsoar wants you to know more before you buy and help you sell when the time is right.
Xsoar provides analysis and research including valuations, cap tables and share ownership and ubos (ultimate beneficial owners). We ignore the social media noise for the facts and run our own algo to "xfactor" the ventures. Our web page reports are one page and the algo summarises Red and Green flags.
Our data is open and can be grabbed via api. It is early days but we are moving fast.
Business Plan Review
Under the new FCA crowdfunding guidelines, ventures seeking funding will require a third party to verify the business plans. Xsoar offers this service.
Frequently Asked Questions
Xsoar is currently at seed stage and is looking for strategic partners. If you would like to invest we can, after basic due diligence and NDA provide you with our pitch deck.
Xsoar is a secondary market with a research and analysis arm, where investors can buy and sell shares in private companies. For these transactions i.e. confirmation, settlement and issuance, we will use blockchain technology.
A blockchain is a distributed register to store records and transaction data without central coordination by using a consensus-based mechanism to check the validity of transactions. Blockchain technology will increase speed and safety of transactions.
Investing in private companies is illiquid and once you invested you are locked in for a long time. We would like to change that. Furthermore, information regarding private companies is in most cases still insufficient and inadequate for making appropriate investment decisions. This represents a serious problem in terms of transparency and price discovery.
We provide independent research and analysis on private companies.
Under the FCA regulations, because the risks of investing in illiquid (that is non readily realisable) ventures and other instruments are very high, an appropriateness test including consumer categorisation must be undertaken. This is also the case with all UK based crowdfunding platforms.
Xfactor scores range between 1 and 5. It is the outcome of a multi-factor ranking process that utilises a proprietary algorithm and incorporates criteria including, but not limited to: profitability, intensity of rivalry, management team, investor quality, transparency, popularity, valuation. Xsoar does not rank ventures but does group them for easy filtering. Xsoar does therefore not provide advice.
Please contact us at info@xsoar.com
Xsoar is not a primary issuer but can help raise capital via the platform. Please email us at sales@xsoar.com.
Research. Analysis. Issuance. Secondary Exchange. Global.
Xsoar is independent of brokers, vc funded and sponsored platforms and crowdfunding websites.
@xsoarco
info@xsoar.com
xsoar limited
+44 (0) 203 286 8700
1 fore street, london ec2
fca #716661